Dogwood Blossoms
Chorus
Sweet Adelines Int.
We are very much looking forward to performing at Region 17's competition in Cleveland OH on May 21! In preparation, we enjoyed coaching sessions with David Calland on March 8 and May 3 and also with Jean Flinn on April 16th - we learned SO much! Every coaching session gives us an opportunity to improve our singing.
We invite our families and our friends to preview our competition performance on Tues. May 10th at 7:30 pm at Central Christian Church, 17833 Gambier Rd. in Mt. Vernon OH. Please come share our excitement in performing and enjoy some fellowship and refreshments.
After devoting a few weeks to competition events and the installation of our new officers, we will resume regular rehearsals on May 31st. Join us at 7:00 most Tuesday nights at Central Christian Church, 17883 Gambier Rd. in Mt. Vernon OH. Come visit us - we'd love to meet you!!! We'll be starting to learn new music in preparation for our annual show at that time.
Dogwood Blossoms Chorus announces new director
Dogwood Blossoms Chorus, a chapter of Sweet Adelines International in Mt. Vernon OH, is pleased to welcome Rachel Fankhauser as the new director of the chorus. Ms. Fankhauser follows Donna Dudgeon, who retired at the end of 2015 after leading the chorus for 25 years.
Ms. Fankhauser has an extensive background in vocal music: she has been involved with singing most of her life and she sang and traveled with her two sisters as a child. She was introduced to women's 4-part harmony in high school where she sang bass in a quartet; in college, she traveled every weekend in an a cappella quartet. Rachel studied elementary education and music at Baptist University of America and taught elementary music for 3 years before starting her family.
Rachel joined Hocking Valley Chorus (of Sweet Adelines Int'l) in southeastern Ohio eleven years ago. Since then, her experiences in Sweet Adelines have been many: she sang in a quartet and was assistant director with City of Flags Chorus in Canton OH; sang with Gem City Chorus in Dayton; sang in Voice of America Chorus in West Chester OH while also serving as assistant director and section leader; and currently sings with Scioto Valley Chorus in Dublin OH, which placed 4th in international competition last fall.
Rachel lives in Belpre OH with her husband Tom. She has three grown sons: David, William, and Thomas.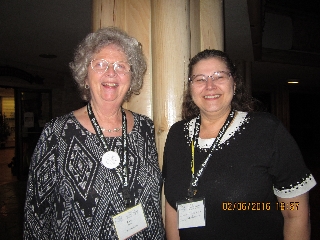 President Barb Snow and Director Rachel Fankhauser
Call (740) 720-3221 for more information!
Happy Spring!
Welcome!
Dogwood Blossoms Chorusis an extraordinary group of women who gather together in celebration of the art form known as barbershop music. We are a chapter of Sweet Adelines International.
Our director is the wonderfulDonna Dudgeon, who inspires us to reach new heights with each performance. We can be heard throughout the year, singing for civic and charitable organizations, private groups, churches, community events, and fundraisers.
Dogwood Blossoms Chorus

Rehearsals: Tuesdays 7:00 pm
Central Christian Church

17833 Gambier Rd.

Mount Vernon, OH 43050

Call: 740-720-3221 or E-mail:

dogwoodblossomchorus@yahoo.com

Do you sing? Do you want to be part of a special group of women? find out how to Join Us!
We love to entertain by putting on our own musical events each year for the community, our friends, and families. In an effort to stay committed to singing and performing at the highest level possible, we compete each year in a regional contest.
Please contact us to sing at your next special event!
About

Dogwood Blossoms Chorus




---




About Barbershop

Find out more about this amazing, original artform and our organization.




Hear Us!

Hear a few of our tracks to get an idea of what close harmony is all about!