Dogwood Blossoms
Chorus
Sweet Adelines Int.
What a year it has been - well, actually, more than a year!
As the state of Ohio is on its way to achieving more and more persons vaccinated and restrictions on gatherings are relaxing, the chorus is working on resuming safe rehearsals. We will do some "trial runs" starting on May 4 and will keep everyone posted on our future plans, but we hope to be able to invite people to our rehearsals soon! AND we will be at the Danville OH 'Ladies Night Out' event on May 7 from 5:00 to 8:00 pm - drop by and visit us, we'd love to tell you about our chorus!
We are, at present, meeting via Zoom - and that has been a learning experience! (Several of our chorus members have gotten quite a bit of tech education...) It has enabled us to keep in touch and to rehearse some of our music remotely; fortunately, we already had our learning tracks and sheet music before we had to take a pause and we were able to send files via e-mail and Facebook if needed. Even our board has met virtually on Zoom - but everyone is really looking forward to in-person sessions. Let us know if you would like to meet us on Zoom!
We will have our annual installation dinner on Tuesday, April 20. We will install our new officers, reveal our secret sisters for the past year, and announce our chorus' Sweet Adeline of the Year recipient. Our new officers for 2021-22 are: President - Cindy Brown; Vice-Pres. - Barb Bower; Secretary - Debi Kuhn; and Treasurer - Karen Burgess.
We anticipate holding our annual show on October 10 - watch for more information soon! We also plan to take part in Mt. Vernon OH's 'First Friday' events this summer. Let's all cross our fingers and hope that "normalcy" will abound.
So - we are trying to do all we can to keep our chorus going! We encourage anyone who is interested to contact us! Although we are not functioning in "normal" mode right now, we plan to "revive" ASAP and would welcome you!!!
These gals were presented with longevity awards last year at our annual banquet - we'll post new photos soon!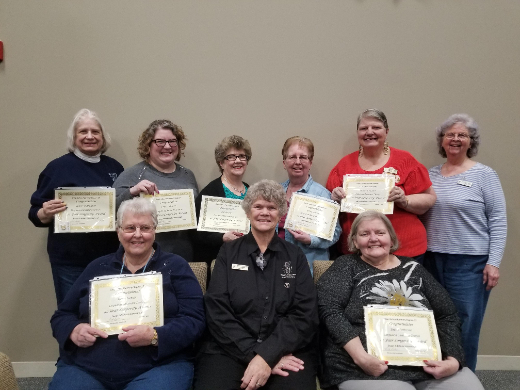 Watch or "like" our page "Dogwood Blossoms Chorus" on Facebook for day-to-day information.
Call (740) 720-3221 for more information!
Welcome!
Dogwood Blossoms Chorusis an extraordinary group of women who gather together in celebration of the art form known as barbershop music - we sing 4-part harmony music, a cappella style, in several genres. We are a chapter of Sweet Adelines International.
We can be heard throughout the year, singing for civic and charitable organizations, private groups, churches, community events, and fundraisers.
Dogwood Blossoms Chorus

Rehearsals: Tuesdays 7:00 pm
Central Christian Church

17833 Gambier Rd.

Mount Vernon, OH 43050

Call: 740-720-3221 or E-mail:

dogwoodblossomchorus@yahoo.com

Do you sing? Do you want to be part of a special group of women? find out how to Join Us!
We love to entertain by putting on our own musical events each year for the community, our friends, and families. In an effort to stay committed to singing and performing at the highest level possible, we compete each year in a regional contest.
Please contact us to sing at your next special event!
About

Dogwood Blossoms Chorus




---




About Barbershop

Find out more about this amazing, original artform and our organization.




Hear Us!

Hear a few of our tracks to get an idea of what close harmony is all about!